A nostalgic and stylish barge trip
A nostalgic and stylish barge trip
About La Belle Epoque hotel barge
128 ft long, 12 passengers; 5 crew members
This fine state-of-the-art hotel barge is elegant and spacious enough to accommodate up to 12 guests in comfort. Enjoy relaxing in the spacious saloon or on deck in the spa-pool. Feeling energetic? Why not try out our bikes or enjoy a walk along the tow path?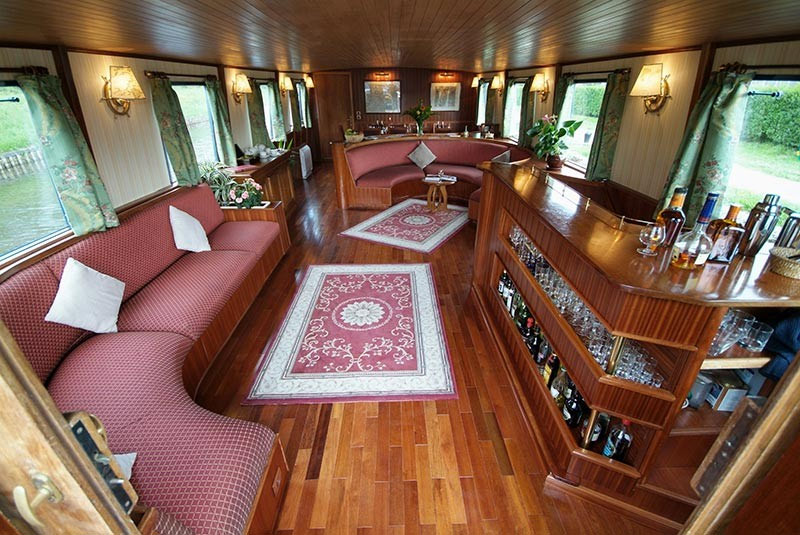 On board, savour the culinary delights of the region, prepared each day by your chef, using fresh, local produce, and accompanied by a fine Burgundy wine.
After a busy day exploring, retire to your spacious, ensuite cabin for a peaceful night's sleep.
The service and excellent itinerary are the result of the many years that the Belle Epoque has been cruising.
Cruise Duration: Six Nights, Seven Days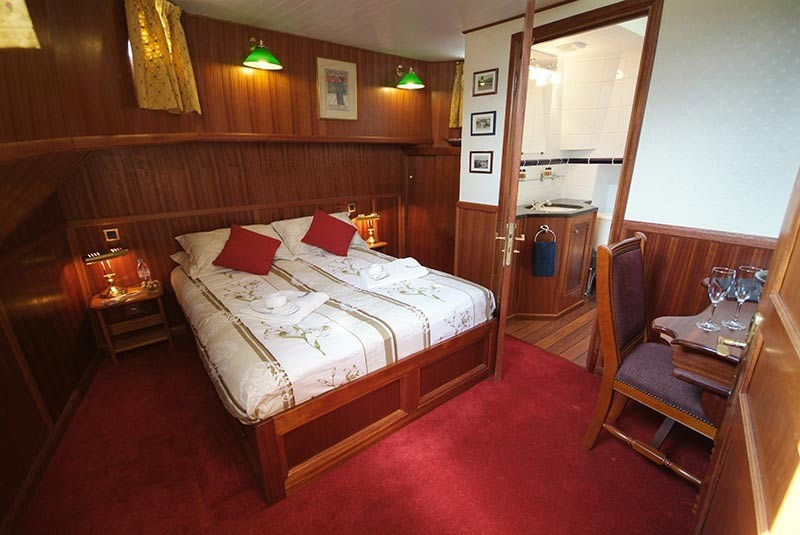 Sunday afternoon: Paris to Venarey les Laumes
Guests are met at the designated meeting point in Paris and transferred to La Belle Epoque. A full crew Welcome Aboard with champagne and canapes. After time to settle into your cabin you will enjoy your first dinner aboard and an introduction to Burgundy's excellent cuisine.
Monday: Venarey les Laumes to Montbard
Enjoy a leisurely breakfast followed by a visit to the hilltop village of Flavingy-sur-Ozerain, where the film 'Chocolat' was set. On the way from the summit of Mount Auxois, we look at Alesia, the last battle site between the Gauls and Romans which took place in 52 B.C. There is also time to explore the medieval town of Semur-en-Auxois. After lunch we cruise through woodlands and rolling fields with great towpath biking and walking opportunities past the tiny canalside villages of Nogent, Courcelles and Les Granges. Dinner on board.
Tuesday: Montbard to Ravieres
Morning cruise to the Forges de Buffon and then after lunch we escort you to the exquisite World Heritage UNESCO site of Abbaye le Fontenay, founded by St Bernard in 1118. Representing a distinctive example of early Cistercian architecture and virtually intact, Fontenay allows an exceptional glimpse of Cistercian life and industry with its peaceful gardens and ponds, and fascinating cloisters, dormitories and scriptorium. Return to the hotel barge and cruise to Ravieres. Dinner on board.
Wednesday: Ravieres to Ancy le France
Morning visit to Medieval Noyers sur Seine to admire the local produce, colours and delights of the wonderful market, or to wander the town ramparts in this, one of the most beautiful villages in France. After lunch you can enjoy a lazy afternoon cruise past grazing Charolais cattle, with plenty of opportunity to walk or cycle along the towpath, to Ancy-le-Franc. Dinner ashore at a local restaurant
Thursday: Ancy le Franc to Lezinnes
Gentle morning cruise as your hotel barge descends through the picturesque locks and past the 16th-century Renaissance palace and gardens of Ancy le Franc. After lunch we tour the vineyards and town of Chablis,d dating back to Roman times, then enjoy a private wine tasting at the family-run Domaine Jean-Marc Brocard, a renowned winemaker that makes the most of the region's wonderful local terroir to produce high-quality wines. Dinner on board.
Friday: Lezinnes to Tanlay
After breakfast, we enjoy a leisurely cruise to our final mooring at Tanlay. Following lunch, we visit the 16th-century Renaissance-style Chateau de Tanlay, nestling serenely within the village. There is ample time to wander around Tanlay before returning to La Belle Epoque for the Captain's Farewell Dinner on board. aboard.
Saturday: Tanlay
After breakfast, disembark and transfer to the designated drop-off point in Paris.
Rates : 7 days / 6 nights charter cruise upon request
(including transfer to and from Paris)