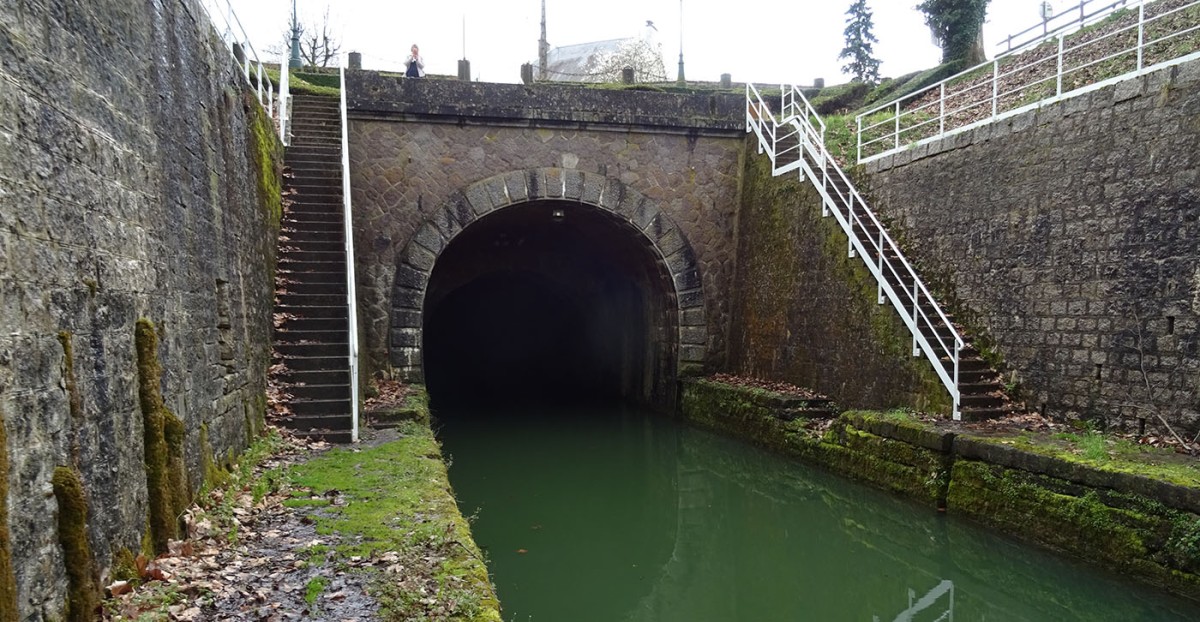 The summit of the Burgundy Canal
At the summit of the canal, a 3.33 kilometre long tunnel was built from Pouilly-en-Auxois to Escommes. Carved in a straight line through hills which separate the Yonne and Saone river valleys.
An animation with the original drawings showing how the tunnel was built
Key facts and figures about the tunnel
Length: 3.333 kilometres long
Width: 5.80 metres
Ceiling height above the water level: 3.25 metres
32 ventilation tunnels, the deepest at 50 metres
Date of completion 1832
The construction of the tunnel was completed in 1832, finally allowing the passage of barges across Burgundy and for cargo to be transported from the north to the south of France.
If your cruise program takes you through the tunnel then you'll enjoy this. The bigger your barge the longer it will take to pass the tunnel. On small hire boats, the journey should last 40 minutes to an hour. For a barge of 30 metres long you should count 2 hours, however for a 38-metre barge consider 3 hours to accomplish the crossing.
The traffic is always in one direction. Traffic is regulated by the lock keepers at each end of the tunnel; ecluse 1 Yonne and ecluse 1 Saône. You must have permission from one of the lock-keepers to pass the tunnel & your boat must be equipped with lighting and life jackets. Hence you are not allowed through on canoes, rafts etc.
The tunnel is now equipped with lighting and has been renovated to meet the European safety standards.
Old photos of the tunnel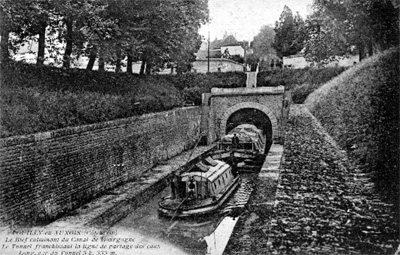 The electric tug arriving in Pouilly en Auxois after passing the tunnel and towing cargo barges. Dated 1921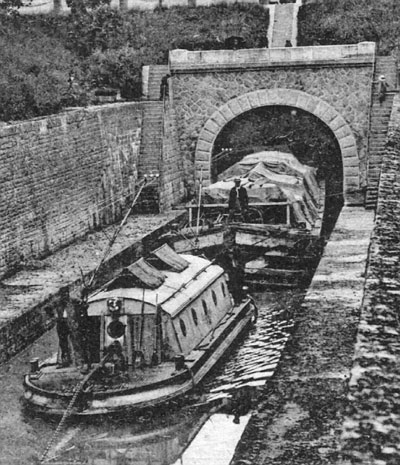 This is a close up of the previous photograph. You can see the chain on which the electric tug pulled, and the metal arm that is touching the electric cables above.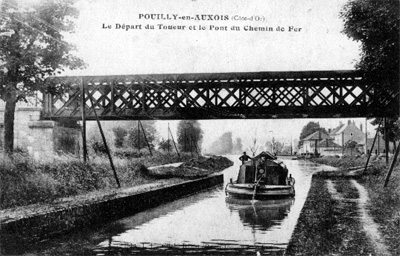 The tug leaving Pouilly en Auxois, heading towards the tunnel and Escommes, dates from 1913.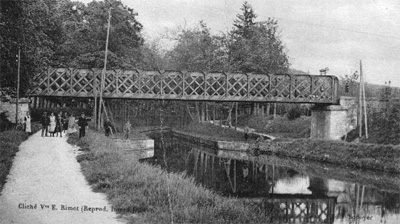 The same bridge as in the previous photograph. The metal bridge crossing the canal is the railway. The bridge was blown up during the Second World War.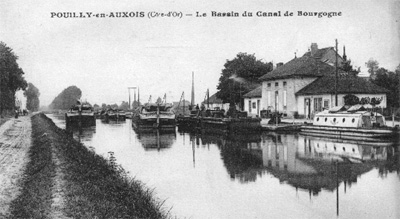 A very interesting photo taken in 1921, to the right is the electric tug, just behind is the steam-powered version of the tug, which was not kept in service for very long. The three barges that are cruising belonged to the "Company General de Navigation" from Paris, the barges are horse/mule-drawn.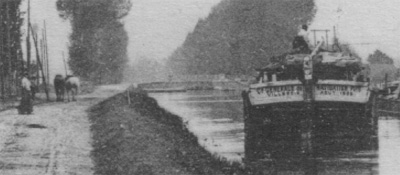 Horse-drawn barges need very large rudders to maintain manoeuvrability as there was no thrust or energy from a propellor.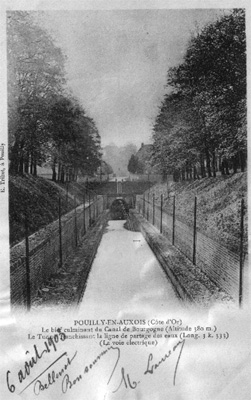 On this postcard, the entrance to the tunnel is dated 1903. The canal is frozen solid.
It is also interesting to notice the wooden poles that are still in place and hold the electric cable to power the tug.
Many thanks to Brigitte for the postcards.