Ship-yards and dry-docks on the Burgundy Canal
Dry dock facility (cale sèche)
Atelier Fluvial
Tel 00 33 (0)3 80 27 03 00
Saint Usage 21170
Situated at the entrance to the Burgundy Canal & river Saône, besides lock 76. (The first lock on the canal when leaving the river). For boats and barges up to 40 metres (125 feet) long, and a keel depth of 2 metres (6 feet), beam 6 metres (18 feet). Very skilled in steel, welding and metalwork. Electro-mechanical installation & repair. Barge transformation, renovation and construction.
Chantier Fluvial de Migennes
Tel 00 33 (0)3 86 92 93 13
Gare d'eau
Route Charmony
89400 Migennes
Situated at the junction of the Yonne and Burgundy canal: 60-ton crane, storage ashore for 50+ boats of up to 40 tons, all types of repair and conversion work undertaken on all types of boats. Surveys for insurance, valuation, condition, or litigation carried out on steel or glass-fibre boats anywhere in Europe. Access from Paris 1.25 hrs by train.
Breakdown & outboard engines
Blanquart
Tel: 00 33 (0)3 80 29 11 06
Saint Usage 21000
Situated at the entrance to the Burgundy Canal & river Saône beside lock 76.
Specialising in smaller boats, sailing boats & outboard motors.
Crane service available to lift light boats ashore.
New and second had boats.
Barge shop selling various articles, VHF radio, flags, rope, gaffs etc.
Images of boat repairs on the canal.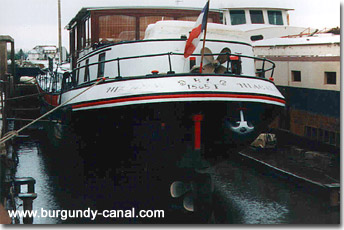 Two barges the in dry dock at Saint-Jean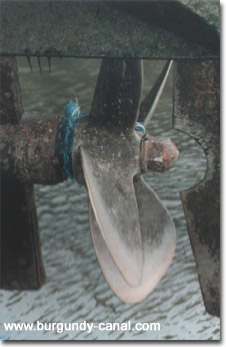 Wear and tear and debris