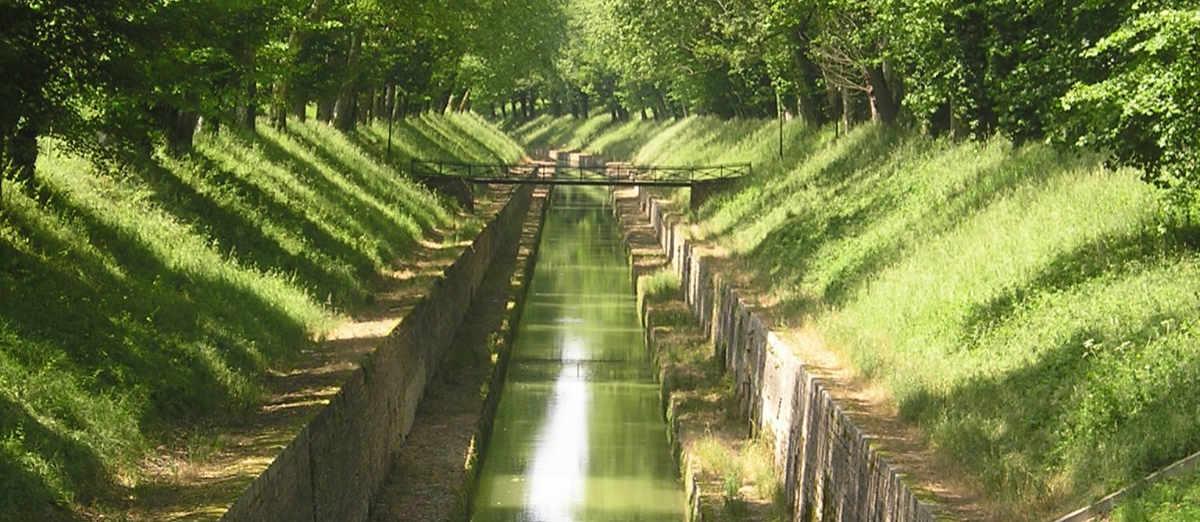 This is the top of the canal! The summit!
Pouilly-en-Auxois is considered to be the summit of the Burgundy canal. It is a small market town that once bustled with agricultural and market activity. The arrival of the canal considerably increased the local wealth. However, the arrival of the railway and then the freeway has made Pouilly recede into the background.
The Tunnel passes below and through the heart of the town, it's a worthwhile visit for all.
The town offers all the amenities that you need with hotels, cafes, restaurants, shops, pharmacies, banks, supermarkets, hardware stores, bakeries and a weekly market.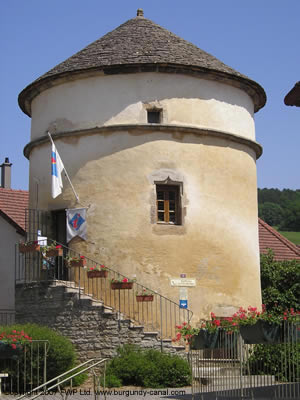 The local tourism office is installed in the old pigeon tower: 03 80 90 74 24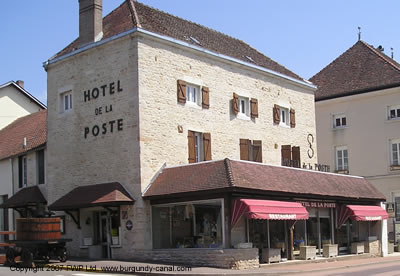 You'll find some restaurants offering good menus, the Hotel de la Poste, Le Commerce and our favourite "Le Sporting" in the centre of the town.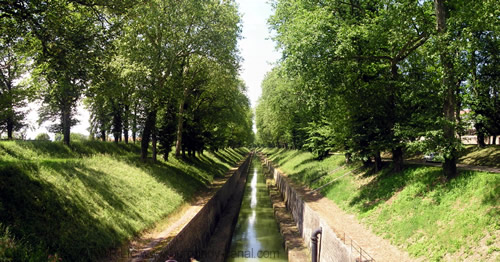 This is a view from on top of the tunnel looking towards the port. The tall trees on the left and right offer a shaded path. The canal has steep-sided stone walls rising higher and higher as the tunnel entrance approaches.

The old port, just on the town limits is a welcomed rest place for navigators, it is easy to do repair work, refuelling, painting etc. The moorings are deep, and you can tie up your boat along the quay. Just beside the port are some very practical DIY and hardware stores. During harvest time the cereal silos on the other side of the port can be noisy, but it is a special time of the year.
Old postcards of Pouilly-en-Auxois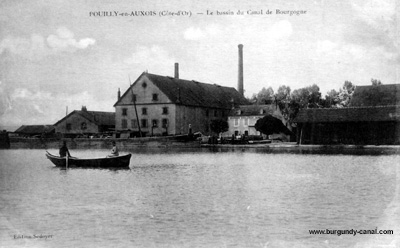 The roof tile factory built in 1925 and then burnt down in the 1960s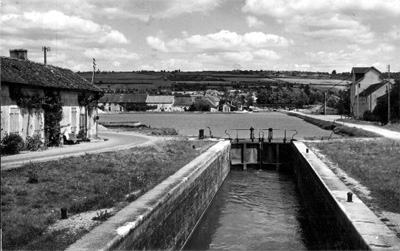 View of Lock number at the port of Pouilly, the other side of the hill it is downstream to the Rhone.
Day cruises and excursions
You'll find information about the excursion through the tunnel in the local tourism office or at the port. There is a tour boat that will take you on a voyage through time and the tunnel from Pouilly to Escommes.
Canal position
Riverside Yonne: from lock 1 to 8
River Saône: Take the tunnel passing below the Auxois hills to arrive at Escommes. You'll then be on the Saône side of the canal, you can head south to the sun.
What you can find in Pouilly en Auxois
Post office
Shop and boutiques
Bakery
Pharmacy
Bar, cafe
Restaurants
Hotels
DIY
Merdical Clinic
Vet
Banks
Mooring facilities
Water supply
Electrical point
Turning for 38-meter barges
Bollards