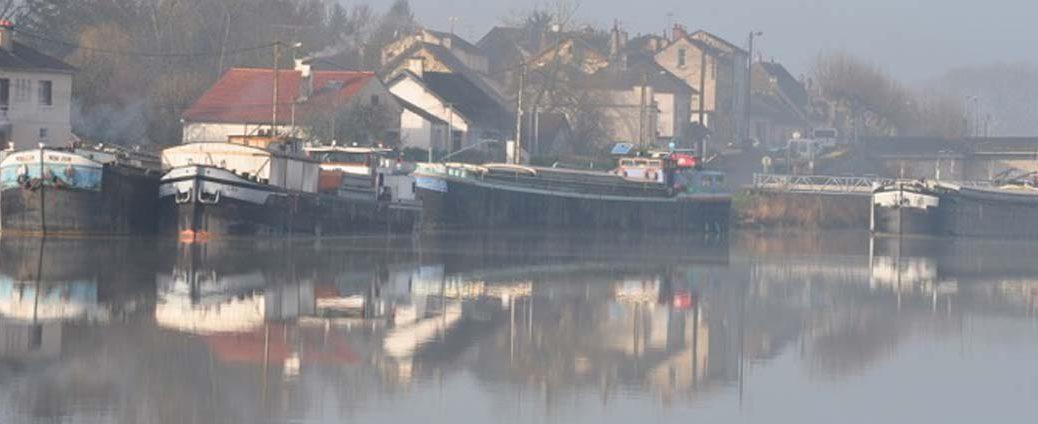 The town of Saint Jean de Losne is situated at the southern extremity of the canal, where the water flows in to the river Saône.
Self-drive boat rentals and hire
The port of Saint Jean de Losne is one of the biggest boat hire bases on the Saone river. With a large choice of boats and different routes available this is a popular starting point for boating fans.
The beginning or the end of the Burgundy canal, depending on your cruise itinerary. You should find everything you need. From dry dock, barge construction to food supplies. This is one of the capitals for the barging world, a place where you can find any type of engine part for any engine, from Boudin to Volvo. There are some of the most skilled welders available, mechanics who know Leyand, Perkins and Scania motors. Skillfully milled prop-shafts and propellers. The local cafes are still occupied by bargees that are retired or waiting for another voyage, or maybe the river Soône is in flood and the level is too high for navigation.
The town of Saint Jean is a very active place, but there always remains a sad side, it is a place of passage, transition, if you stay here for a long period it is generally because there is something wrong with your barge or boat.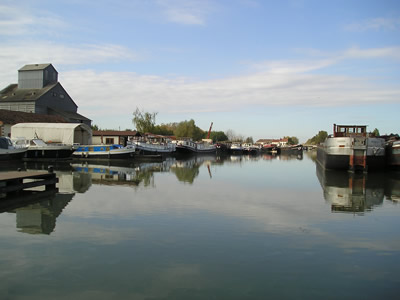 The first stretch of canal above lock 76 is a hive of activity, with barges being, built, rebuilt, repaired, sold and converted. During the winter months,many barges will come to hibernate for a few month.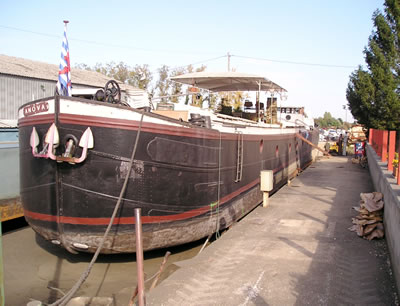 The Atelier Fluvial is one of the most experienced barge dry docks in France, with years of talent and skilled craftsman ready to offer their services. It is always interesting to watch the barges entering the dry-dock and the work being accomplished.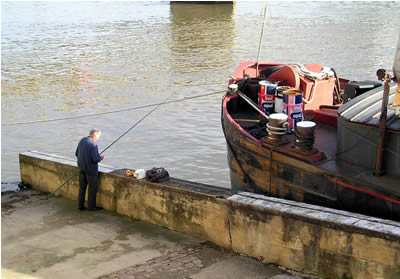 Everything at Saint Usage and Saint Jean is about barging, there are pieces of boats everywhere and if you need to find a spare part, then this is the place to come. People and barges come and leave Saint Jean all year round, it is a wonderful place to meet others and share barging experiences.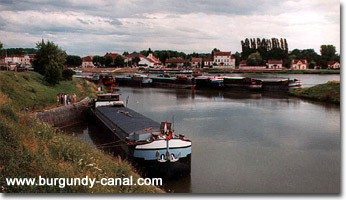 Bargees blockading the canal entrance, in an attempt to keep the commercial barge industry alive, as the French government financially favors the Road and Rail in 1986.
Restaurants:
Auberge de la Marine: 03 80 27 03 27
Auberge du Paradis: 03 80 29 07 33
Boulanger pâtissier: 03 80 29 08 16
SNCF: 03 80 29 05 64
Taxi: 03 80 29 10 48
Luxe-motor.com: tel. 00 33 6 08 16 82 33
Expert in barges and expert barge brooker.
To visit the website click here.
For more information about boat facilities please click here for the shipyards and dry-docks
Atelier Fluvial: tel 00 33 380 27 03 00
Dry dock, for large barges up to 40 metres.
Blanquart: tel 00 33 380 29 11 06
Small craft or outboard engine, crane, rope, general boating equipment.
Visit his web site


If you are on the river and trying to join the canal be careful you could miss the entrance to the Burgundy Canal. Have all your papers ready, the lock keeper may request them.
If you are leaving the canal to cruise on the river, inform yourself about the current before hand. Take the opportunity to fill up with fuel at the AviSaône barge.