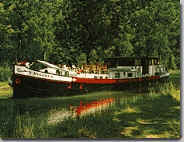 The town of Tonnerre has a population of 6500 and offers all commodities.
One of the few places along the canal where you will find vineyards. Epineuil with Pinot noir. Tonnerre et de Molosmes, white chardonnay.
In the old town centre you can visit the mysterious water source called "La Fosse Dionne", the source is the second deepest in France. The continual supply of water has intrigued people for many years and is well worth a visit. In 1758 a wash house (Lavoire) was constructed around the source.
Hotel Dieu, Fondation de Marguerite de Bourgogne.
Links: