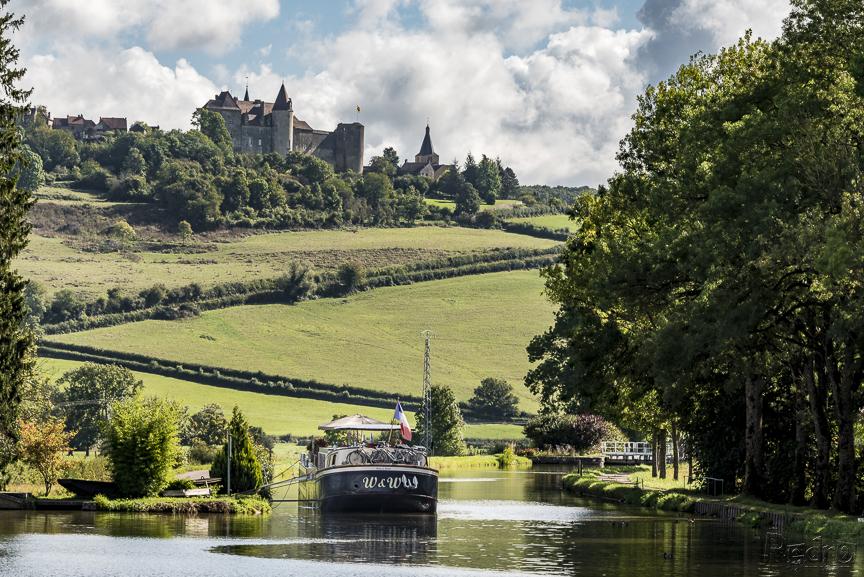 The village of Vandenesse en Auxois
Vandenesse-en-Auxoisis a quite village near the summit of the canal on the river Saône side. A small farming village laying at the beginning of the Auxois plain and in the shadow of Chateauneuf en Auxois.
Located near the summit of the Burgundy Canal, the port between lock 8 and lock 9 is one of the most prettiest moorings on the Burgundy Canal. It is the home port to some of the best hotel barges such as Wine & Water. The moorings are deep and 360 degree turns are easy for 38 metre barges. There is water, electicity and other facilities. The port can be busy in the summer time and you may have to moor side by side.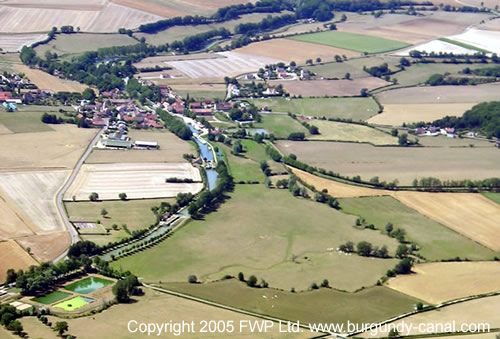 Within the village there are two well known local restaurants, with great traditional cuisine.
Dubois : 0380492236
Chardin : 0380492238, (this used to be called Chez Lucotte)
You'll also find a "tea shop" and some curiosities.
Moorings
Many barges will spend a few days in the port, as the facilities are very good. Most weekends, you will find larger hotel barges in the deep mooring.

Port or Vandenesse: between lock 8 and 9. This is a good turning point for 38 meter barges, so they will often use the port for a couple of days and fill with water. Allthough the canal is not heavily encumbered by traffic, sometimes you'll find queues for water!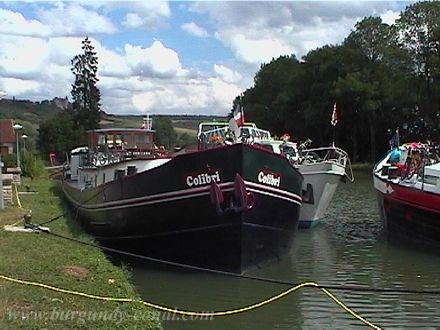 Cruising
This section of locks from number 2 to 8 and 10 to 12 are self-operating for boats less than 15 metres in length, you will be given instructions at lock 1 or 13 explaining how to operate the locks. Boats over 15 metres will have a lock keeper to accompany them.
Be careful cruising upstream at most of these locks. There is often a water current on the right side below the lock. In later summer the current can be quite strong and will tend to pull you over to the right just before going into the lock. Boom!
Visits
If you enjoy walking or cycling you can visit the famous medieval village of Chateauneuf. There is also Panthier reservoir, with windsurfing, sailing and swimming at 5 km. Another beautiful chateau is at 8 km in the village of Commarin.
| | |
| --- | --- |
| Chateauneuf-en-Auxois a medieval village and castle | 5 kilometres |
| Commarin chateau | 8 kilometres |
| Panthier reservoir | 7 kilometres |
Events
First week of September: "Maquettes afloat", a model boat exposition in the port, working model boats of all kinds, really worth the visit.
In September there is a great Firework display over the water at the port.