The town of Montbard is in the Brenne Valley, the origins of the name is uncertain, "Mont-Bardes" - the beared monks perhaps.
The main hill which stands out of the landscape offers an ideal location to defend the valley. During the middle ages, the Burgundy Dukes often stay at the fortified chateau. In 1590 the town is beseiged by the Duke of Nemours.
The most influencial person throughout history from Montbard, Georges-Louis Leclerc, Count of Buffon, (1707-1788), his studies in Bontany where of great importance.
As the town is quite large with regards to others along the canal, you'll find most things you need, nearby supermarkets, a main shopping street. The railway station which has a rare TGV stop, (as part of the TGV train is built in Montbard).
Canal navigation began in 1833, and there is a slight renewal of commercial navigation here. The canal has two ports, the upper and lower. In the lower, the moorings are more comfortable.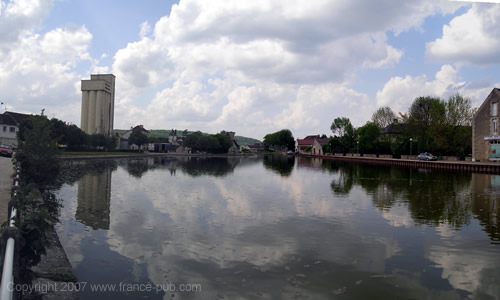 The above image is a recent view of the top port, which still has some commercial activity.
Links:
What to see in Montbard
The path "Ermitage", which allows you to discover the flore of Montbard, is a worth while walk.
Musée Buffon, is a art museum.
Musée des Beaux-Arts, with a colletion of paintings by Burgundian artistes.
Camping site
80 places on 2,5 hectres
Rue Michel Servet 21500 MONTBARD
Tel: 03.80.92.21.60
Fax: 03.80.92.21.60
Tourisime Office
Adresse Rue Carnot - B.P 22 21501 MONTBARD Cedex
Tel: 03.80.92.03.75
Fax: 03.80.92.03.75
Musée des Beaux-Arts
rue Piron 21500 Montbard (en face de l'Hôtel de Ville)
Tel: 03.80.92.50.42