The very picturesque old houses on the canal side of the village always please visitors. The history and calm of the working abbey capture everybody's attention.
The village is actually split into two very distinct parts, "La Forge" with the canal running through, and on the other side of the Ouche, "La Bussiere", with the 11th century Cistercian abbey.
The old Cistercian abbey is now probably one of the best hotels and Michelin rated restaurants along the canal, Hotel restaurant Abbaye de la Bussière offers superb gourmet dishes, menus and wines. Clive et Tanith Cummings acquired the abbey in 2005 and after years of hard work they have created an epicurean world that can only delight you. We highly recommend this establishment.
The village still has a post office (open in the afternoons). There is a newly built cafe, replacing a burnt down version. The only grocer shop has closed down.
This village is an excellent halt along your cruise, the abbey, village and surrounding countryside are full of interest.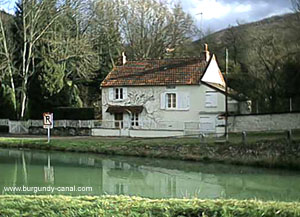 Moorings
Due to certain barges provoking generator noise, and a new neighbour, you can no longer moor below lock 26 within 200 meters. T