The port of Escommes
Escommes is at the summit of the canal on the Saone side. This once busy hamlet is now a very sleepy place with little activity, no shops and not even a cafe. You may encounter a few cyclists or fishermen and maybe another barge.
A few decades ago this was a very busy sector of the canal with cargo barges waiting their turn to be tugged through the very long tunnel towards the northern side of the canal. There used to be a cafe!
If you have just cruised upstream from Saint Jean de Losne, you have arrived at the top of the Burgundy canal and after going through the tunnel, you'll begin your descent to the river Yonne and the Seine once you arrive in the town of Pouilly en Auxois.
Otherwise, if you have just come through the tunnel, then you will begin to cruise downstream to the River Saône.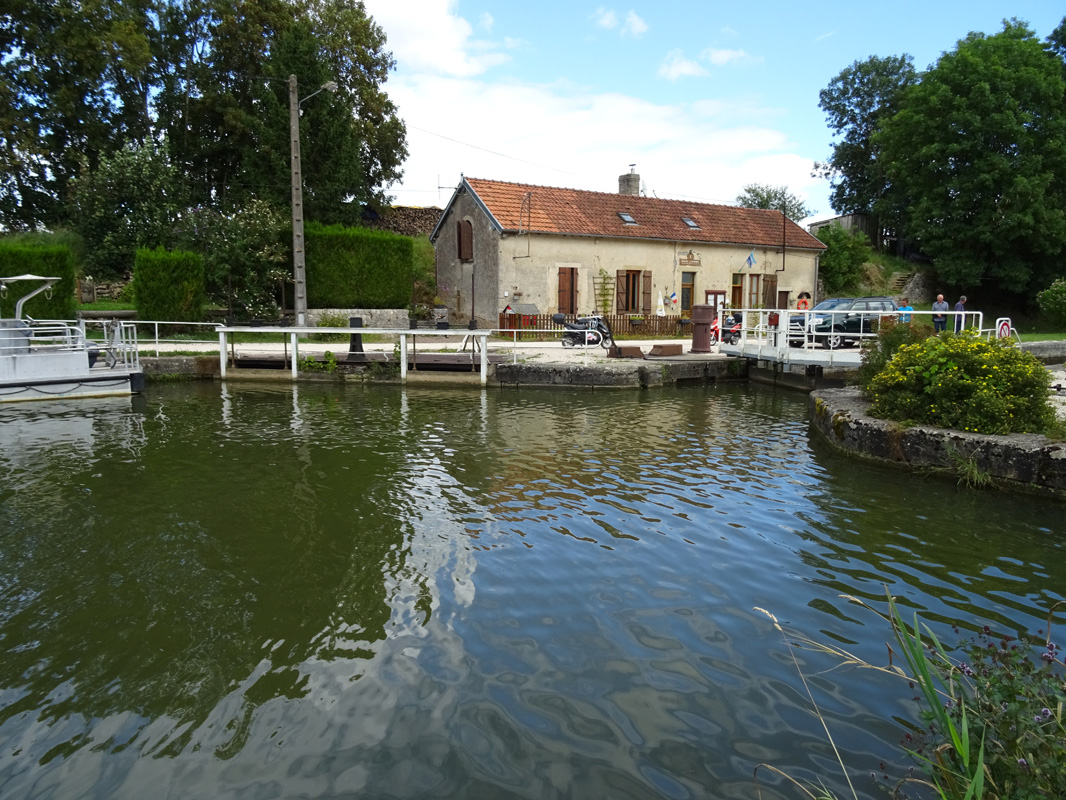 As you pass through lock number 1 at Escommes, prepare your navigation papers, they will be requested if you want to pass through the tunnel, and make sure you have working navigation lights, life-jackets etc.
Escommes is a very interesting place for people interested in waterway systems.
There is a complicated sluice gate system that was constructed to manage the water levels on the canal. Water can be sent from two upstream reservoirs (Chazilly and Tiollot) to top up the water levels, and if there is too much water then the supplement can be diverted to the Panthier reservoir.
A few metres from the lock house and tucked below the Maison du Garde is one of a pair of "turbine stations" which provided "hydro electrical" power for the electric tug which towed barges from Escommes to Pouilly through the tunnel.
Inbetween the lock house and the "Maison du Garde" you find what looks like a dry-dock or unfinished lock. Although it has been used as a cumbersome drydock, its real purpose was to fill a "loading dock" which then transported empty cargo barges through the tunnel.
The port is a very calm place to stay (a preferred place for the local carp fishermen). The mooring on the left side are deep and there is water and bollards.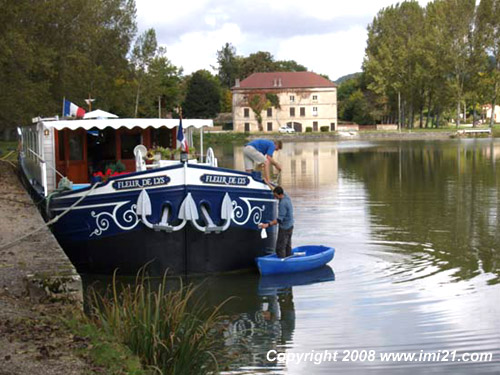 A wonderful luxury barge moored at the port of Escommes in October, the crew are cleaning the hull and preparing for the next cruise.

Canal position
PK 160.2
River Yonne: 5 kilometres. When cruising upstream from the River Saône towards Paris you'll have to go through the tunnel and head towards the market town of Pouilly-en-Auxois.
River Saône: 9 locks to PK 163.5. If you cruise downstream towards the River Saône (southwards) then there is a small flight of locks to the picturesque village of Vandenesse en Auxois and a very handy deep water mooring port.